Great Translation Leads to Great Communication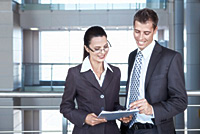 As a provider of high quality translation services we have learned on thing that has made all the difference in our ability to serve our clients better than anyone else. While for most translators and translation agencies high quality, accurate translation is the final objective for any given project – that isn't the case for the client. At Seattle-Translations.com we realize that your goal is communication, and that translation is just one of many tools you'll be using in order to reach that goal. It's for that reason that we pay special attention to your intentions for the project, and do all we can to ensure the translated documents reflect the message you mean to communicate, rather than simply providing you with a word-for-word or even phrase-for-phrase translation.
The 3 Pillars of Great Translation
Translators
To make sure our clients get the absolute best translation possible for each document they bring to us, we work with over 3,000 of the absolute best translators we could find all over the world. We need so many translators on our roster so that we can provide specialized services in over 150 languages. We have translators who specialize in legal documents, medical documents, technical documents – and much more. We work with translators from all manner of professional backgrounds to ensure that no matter how specific your needs are, we can meet them.
Client Care
Our client care is second to none in the translation industry. We offer live 24-hour client support by phone – which means we're always here when you need us. Our staff have expert knowledge of the translation process and our clients often develop strong working relationships with the project managers who carry their translation projects through to completion.
Systems
At Seattle-Translations.com we have put a lot of work into customizing our computer system and project management database to maximize the efficiency of our organization. The minute we are given a new project, it is entered into the database and the best translator for the job is selected within moments. That means work can start almost immediately. Progress is tracked, and our clients have access to their own projects throughout the entire process.
At Seattle-Translations.com our main objective is to give you exactly what you need from your translation agency, when you need it, for the lowest price you can find.
Find us on Google+