About Our Seattle Translations Company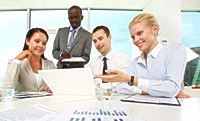 Seattle Translations uses the international power of our parent company, Technovate Translations, to serve our clients with the highest quality translations on the tightest deadlines. We utilize the latest communications technology to match the best human translators with your material to quickly and efficiently translate your materials on your deadline. What other Seattle translation companies can say that! Please call us at 1-866-736-5478 to learn how we can serve you, or read our translation services page to discover the specialized services we offer.
Seattle Translations specializes in:
Our Pride Shows…
We pride ourselves in our dedication to our customers. Our translation specialists are always standing by to take your call at our customer care center, staffed around the clock during the business week. Based in North America, we service the globe and can just as easily do an English to Chinese translation for a North American audience or a Chinese to English translation for an Asian audience. We can be reached online through Live Chat around the clock during the business week.
Our Service Is Unmatched…
We only work with the best translators. Each has at least three years' experience and has passed rigorous tests to qualify for a position with us. We match accuracy with speed to create an unparalleled translation force that matches or exceeds leading industry quality. So no matter if it's an English to French translation or a French to English translation we've got you covered with the right translator for the job.
Ordering Is a Breeze…
There are three easy ways to order:
Email us at support@seattle-translations.com with a description of your project, and an agent will call you.
Submit an online quote, and let us do the rest.
Call us at 1-800-736-7764 toll free to place your order today.