Seattle Financial Translation Services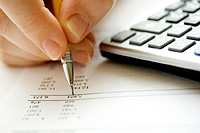 Accurate financial documents are vital for the smooth running of your business and for maximizing profits. When it's necessary to have financial documents translated, you can't afford to entrust your financial documents to anyone but the most experienced expert translators. At Seattle Translations, we not only produce fast and accurate translations of Japanese translations, Spanish translations or Russian translations with an experienced team of native speakers, we also safeguard the privacy and confidentiality of all our clients' financial data.
Have our expert team quote you on your project – we'll handle any deadline!
Our experts can translate any type of financial document, including but not limited to:
Financial prospectus and reports
Financial glossaries and manuals
Income sheets, balance sheets, and cash flow statements
Insurance documents
Auditor reports
Public offerings
Shareholders' agreements
In addition to translating financial materials, our translators are also experts at cutting out jargon and presenting material in clear, easy-to-understand layman's terms that preserve the meaning and intent of the original document. Whether it's an English to French translation or a French to English translation let our financial translation specialists help you understand complex financial documents written in unfamiliar languages. We can provide both a literal translation of the document and/or a translation that is easy-to-read and accurately captures the meaning of the original.
Our rigorous quality control standards ensure accuracy!
When it comes to financial documents, understanding and accuracy make all the difference. That's why we use only the best-trained native speakers of a language as our translators, and it's why we use a second translator to double-check each translation for accuracy and readability to ensure your documents are always right the first time every time.
Contact us today and get started on your financial translation project!