Seattle Legal Translation Services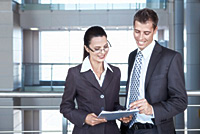 Legal document translation demands a level of precision and accuracy that calls for only the best translation services. Because every punctuation mark and nuance of language is important for understanding the meaning of legal materials, it's vital that you entrust your legal translations to experienced experts who are masters of the language to be translated as well as experts familiar with the subtleties of legal materials. At Seattle Translation, we offer unique translation services that combine these two important aspects to help you with your legal translation needs.
Our translations aren't open to interpretation. We offer clear, concise French translations, Spanish translations, or any translation that accurately conveys the meaning and intent of the original documents. Our experts can translate legal documents including, but not limited to:
Deposition matters
Affidavits
Birth and Marriage Certificates
Court Filings
Patents and Trademarks
Wills
We work with an exceptional team of expert translators who collectively speak more than 100 languages. When you place a translation order with us, a native speaker of the language to be translated will complete your order. Then, a second expert translator will review the work for accuracy to guarantee that your translation is correct, fluid, and readable. Only then do we present you with the finished legal document.
When it comes to legal materials, this level of quality assurance is vital for ensuring your legal documents are as accurate in translation as they are in the original language. Trust a team of experienced, professional translation experts to get it right the first time every time.