Why Choose Seattle-Translations.com?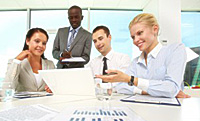 Seattle-Translations.com provides high quality corporate and technical translation services for companies of all sizes. Focusing on combining high speed with competitive prices, we offer the very best in service to meet the needs of our clients.
Our Unmatched Record of Success
Businesses around the world count on us to provide the very best in translation solutions for every language need. We have translated more than 15,000 projects for more than 3,000 clients, covering everything from technical and legal translation to marketing materials. Whatever your project, we can help!
Our Speed and Efficiency
We jump into action to provide high quality service from the moment you request your FREE quote. We pride ourselves on our exceptional combination of quality and speed. That means calling you back within minutes to discuss your free quote during office hours, and promptly even outside normal business hours. We offer this same dedication throughout the translation project, working around the clock and even around the world to guarantee we can meet any deadline with exceptional quality and accuracy.
Our High Standards: EN15038-2006
We want our clients to feel at ease knowing that we meet or exceed the industry's highest standards. Our corporate translations follow the EN15038-2006 standard for best practices and exceptional quality. In Canada, we also follow the CAN/CGSB310.10:2008 standards, which represent the very best in Canadian translation standards.
Exacting Requirements for Every Translator
We hold our translators to the most rigorous quality standards. We test our translators continuously to ensure they meet our standards for both translation skill and subject matter expertise. Because we know our clients' projects are sensitive and often confidential, we need to ensure that every translator meets the highest standards to work with us. Each of our translators specializes in one particular language as well as a particular document type or industry to ensure that whenever you need a translation, we have the right expert on call to complete your project.
No matter how tight the deadline or how complex the project, we've been tested and have proven time after time that we can deliver efficient, accurate, and high quality translations. Contact us for a FREE quote, and we'll give you competitive pricing and exceptional customer service every time!
Let's get started! Contact us now for a fast and FREE quote!