Seattle Interpreter Services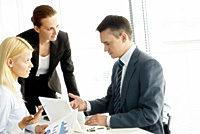 Seattle Translations offers a full suite of interpretation services in both international languages and American Sign Language. Our interpreters are trained professionals with years of experience facilitating communication between languages, and they are available to put their expertise to use for all your interpretations needs.
A good interpreter conveys not just the words being translated but also the meaning behind them, helping you to make yourself understood and to understand the nuances of those whose words are being translated for you. Our interpreters are native speakers of the languages they translate, and they have experience interpreting in a range of settings, including medical translations, legal translations, business, employment, educational, recreational, and familial. They make it easy to communicate across linguistic and cultural divides and to empower individuals to make themselves understood in a different language. Our services are also available for interpreting both into and out of American Sign Language for the deaf or the hearing impaired.
Unfortunately, many times clients think that if someone they know is familiar with a language they can use that person to tell them what's going on. However, this is rarely a good idea because interpretation is both a skill and an art, one that requires careful training and complete dedication. In cases where it is important not just to know the gist of what was said but to fully understand—in real time—what another person is saying in a different language, professional interpretation is not just a good idea, it's practically a necessity.
Contact our Seattle office to schedule your professional interpreter today!