Seattle Website Translation Services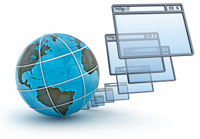 The internet is the world's most powerful tool for extending a business's presence outside its local market and taking it to the world. Because the internet makes it possible to do business anywhere on earth, it's vital that your web presence offer a number of language options for potential customers to do business with you in their own language. Websites in only one language are missing more than half of global internet users. Why not reach out with a Japanese translation site or a Spanish translation site? Website localization and translation has fast become a must-have for any business with international potential.
Can your business benefit from a translated website? Call us today!
Seattle Translations offers a range of services to translate your website into any of 100 languages. Our team of experienced, expert translators will do more than just translate your content into your target language. We'll also localize the content for your target markets.
Localization is the process of adapting your content to a new market. Every country and every language has its own nuances, values, and mores that don't always translate literally. Our experts will evaluate your website's content and ensure that it is appropriate and respectful for the culture you're targeting with your translation. We'll make sure the language used reflects the correct idioms and terminology for your audience, and we'll ensure that your customers feel that your content respects them and makes them feel like you know and understand their unique needs.
We're the translation experts and have the right translator for your project!
All our translators are native speakers of the languages they translate into, (for example, we would only employ a Vietnamese native speaker for an English to Vietnamese document translation) and they are also familiar with the business of marketing on the internet, giving them a powerful combination of skills that your business needs to succeed.
Only trust your web content with proffesionals, contact us today to get started!