New World of Translations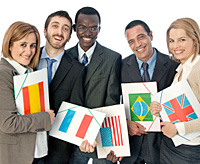 The world is growing smaller because of technology, and language translation service is needed more now than at any other point in the history of the planet. That is where a company like TechnovateTranslations.com comes into play as we strive to ensure that the process of language translation goes as smoothly as possible. When it comes to the combination of translation and customer service, you would be hard pressed to find a stronger entity in this industry than TechnovateTranslations.com, and here are just a few of the reason why we are so confident in our work.
Our professional translators are trained in over 150 different languages and come from variety of backgrounds such as finance and marketing, as well as the legal, medical and technological industries. If you are looking for someone to make that tough English to Farsi translation for you, look no further than TechnovateTranslations.com, where we employ over 3,000 translators who are eager to assist you in your project. Our translators will work with a project manager who will oversee your case from start to finish, and they will also be contact with you every step of the way to make sure the work is to your liking. Our translators are located all over the world, and for example, if you are in Seattle translation would not be a problem if something were to come up unexpectedly as that is where one of our six offices are located, along with Toronto, Ottawa, Washington D.C., Los Angeles and Vancouver. But as we said, our translators are scattered all over the world and that has allowed us to reach out to a number of clients in different fields, such as the Sick Kids Foundation, Sotheby's, Mercedes-Benz, Cassels Brock Lawyers, Bombardier and Pillitteri Estates Winery. They can attest to the ideal service they have received from TechnovateTranslations.com, whether it is a big company or an individual, we will not rest until you are satisfied with your project.
Another reason we stand behind our translators is the human aspect of the industry; some companies will use machine translation software, and that will translate your work from a literal standpoint, but the software will also miss some of the subtleties that comes with every language, not just English. The nuances of languages can only be picked up by humans, who are able to contextualize your work and turn into a flowing document that sounds professional, not just a collection of words. This can only benefit you, so let the folks at TechnovateTranslations.com help you.
Not only are we willing to put our translation and interpretation services ahead of anyone else, but we offer the best customer services in the industry from the beginning of the process to the end, and even after you receive your document. You can start the process yourself by filling out the quick quote form at TechnovateTranslations.com, which has three steps which are very simple to understand, or you can contact our representatives 24 hours a day and they can take you through the process as well. If you are in a hurry, we can expedite the process and give you same day service, depending on the size and difficulty of the project, and our professional customer service representatives will let you know right off the bat how we can assist you. They will let you know how you will receive the document, and what options you have in terms of formatting. Our reps will also pair you with the project manager best suited for your case, because we will not just assign you with one that is available; they will ensure that you are connected to a manager with the proper background and credentials to service your project.
We will also offer our first time customers a 5% PriceBack Guarantee, in which TechnovateTranslations.com will beat the lowest price you can find by 5% just to show you how committed we are to our work. But we will not surrender anything when it comes to our commitment to quality and customer service. We just want a chance to prove to you we are the leaders in the language translation and interpretation industry.
Head over to TechnovateTranslations.com to check out all of the services available at your disposal, and you can email or call us any time of the day. Whether you need a French to English translation, or you need to use our Indian translation services, TechnovateTranslations.com will cover all your bases.
Go back to Translation Resources